St John First Aid Level 1 & 3 Steps for Life
Click on the links below to open the brochures for more information and contact details
St John First Aid Level 1 Fundraise for your Charity and support St John
3 Steps For Life - Monday 16th October 2023 @ 5.30pm and Thursday 19th October 2023 @ 10.30am
Hato Hone St John are holding 3 Steps for life sessions at our New Plymouth training room next Monday and Thursday. The course is delivered by one of our St John Volunteer Community Educators and is a free one-hour session and consists of public awareness around basic CPR and AED training. It will give you the skills and confidence to take action in responding to someone in cardiac arrest by 1) Calling 111, 2) Starting CPR, and 3) Using an AED.
Our mission is to empower as many people in our community as possible to be able to step forward when help is needed and increase out-of-hospital cardiac arrest survival rates in Taranaki.
Up coming training sessions -
Monday 16th October – 5.30pm
Thursday 19th October – 10.30am
Venue – St John Community Hub, 15 Oropuriri Road, Waiwhakaiho. NP
To register – email Rebecca.kennedy@stjohn.org.nz or phone 027 2161592
If you have any questions or would like to arrange a session for a group or organisation, please feel free to call or email me. If the above dates don't suit, please register your interest and we will be running more sessions in November.
---
MH101 workshop - Giving people the confidence to recognise, relate and respond to people experiencing mental health challenges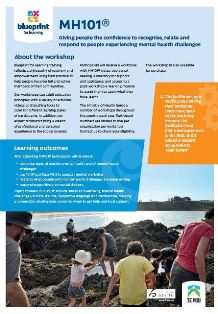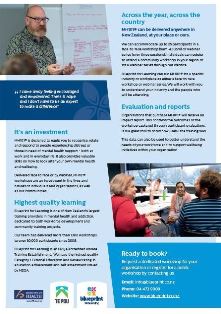 MH101 - PDF version