About us
Volunteering New Plymouth promotes and recognises the importance of volunteers and volunteering within our community. We do this by being a single point of contact for the recruitment and training of volunteers, the promotion of good practice in volunteer management and the recognition of the contribution of volunteers to the community.
We aim to help organisations recruit and retain volunteers and we support existing volunteers through free or low-cost training in order to increase their efficiency, effectiveness and capacity. Volunteering NP was established in 2002.
Our Manager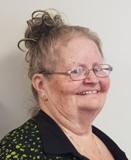 Marie Riordan
Marie previously worked for U-Turn Community Training Services for 23 years where she helped to transition people into employment or those returning to the workforce, and has always promoted volunteering as a great way to give back to the community, while gaining new skills and meeting people.
She was a Volunteer Trustee for the original Umbrella Trust, Taranaki Employment and Support Foundation Trust, for 16 years, Instrumental in obtaining the WITT contract for Taranaki Computer Access Centre Trust and also support to the Treasurer and being Deputy Chair, before being employed as Manager of Volunteering New Plymouth.
She enjoys working with people from her various network and continues to expand on those - and offers a caring professional service to the wider community.
How can we help you?
There are many ways and often it starts with a phone call or email. VNP can:
Place Volunteer Call adverts on behalf of organisations in community newspapers and publications
Meet with those in management and governance roles to provide support and advice
Offer training through our regular workshops and seminars – often this is free or available at a low cost
Match volunteers looking for volunteering roles with organisations looking for specific skills
Recognise and reward volunteers through our annual Volunteer Awards and events such as Volunteer Managers Day and International Volunteers Day Lunch.